Základní článek
Hnutí Brontosaurus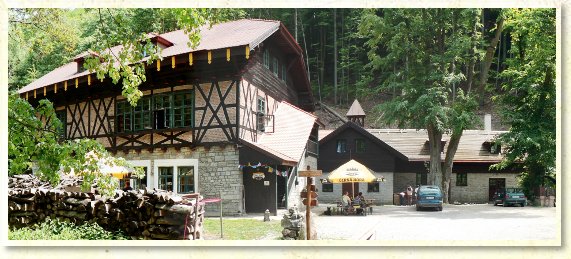 Ema: EVS In EVC Švýcárna
EVS (European Voluntary Service) is a possibility for a youth, who is from 18 till 30 years, to spend until 12 months of volunteering in other country. There are many different fields of volunteer – environmental, art and culture, children, minorities, youth leisure, animal welfare, media, and many more.
EVS is a chance to get to know another culture, do something useful, so is is not surprising that recently this program became really popular – you can find more and more projects, more applicants and more nice different experiences of volunteers.
I started my EVS experience not so much time ago – on the 1st of October, 2012. Even my volunteering period till now isn't so long, I would like to share my impressions in an ecological leisure center EVC Švýcárna , situated in the middle of a breath -taking Moravian Karst, South Moravia.
First part. Who I am.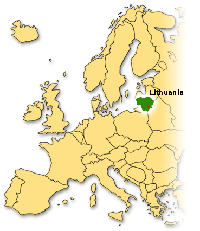 So, firstly, a little bit about myself. I am Ema, 22 years girl from Lithuania. For those, who are not sure, where EXACTLY Lithuania is, a small clue for you :)
Last summer I graduated in Socioloy, Vilnius University, Faculty of Philosophy, so now I am officially a sociologist (wohooo!). I love social sciences and I enjoyed my studies a lot – this period of my life was really dynamic and interesting. During these years I found myself into different spheres – I was a part of some ecological actions, was dancing lithuanian traditional dances, attending different public lectures and seminars related with philosophy, personal development, ayurveda, yoga and similar things :)
But 4 years pasted pretty fast and after a graduation I came up with a question – what I REALLY would like to do now? Do I want to start a serious job and try to "climb the ladder of carrier"?
Or I want to find some temporary random job and earn some money? Hm, maybe this option sounds more attempting for me. But then, another question came into my mind - what is the purpose of earning and saving money? Just for surviving in Vilnius, or something more?..
Second part. Why EVS?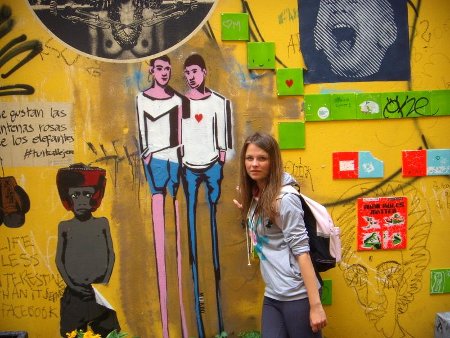 So, back then, the situation maybe wasn't that bad, as I described :), but the fact was, that me, as many other graduated students, wasn't sure about my future – my wishes, goals and opportunities. I felt I have a lot of energy and ideas to do something meaningful, I wanted to be involved in activities, where I can help somebody, express myself, learn things, I want to learn (not those, that I must to learn in order to be effective in a labour market).
So, in a way I became e researcher and started to search for my own way of future. I was searching for the alternative possibilities in the Internet and I was writing down all ideas, which seemed to be attractive for me. Also, I was asking all people around me the same, annoying question: "What are your plans for the future?" :). I tried to catch some interesting tips, visions, ideas. I knew, that there should be other way, the way, which I wish to choose.
And then, after some period of searching (now i don't remember if soon or late:)) I came up with an idea, that I would like to do an EVS. My reasons of this decision were:
Good financial conditions – I get a place to live, food money, covered health insurance and pocket money! I don't need nothing else for my survival :D

I can choose volunteering in a place, where I can do things, which are valuable and meaningful for me - in my case, related with art, ecology, social field

During the volunteering, I will have time to find out more about myself, my abilities and to decide, what I want to do after an EVS

I will meet various people, with similar and different interests, ideas, visions

I have an opportunity to learn a new language (language course is included in EVS!), to know more about other country, culture, traditions, way of living

I will be able to travel!
I was really inspired about an idea to find an EVS project, and started to search for it. I went to consult with some NGO's in Vilnius, also was searching for projects in the Internet.
Surprisingly, it wasn't so easy as it seemed. I have applied to some projects, but the amount of applicants was crazily huge :) So, after few months, the situation was as not clear, as it was before. I had a vision, but only in theory.
Third part. How I got to EVC Švýcárna.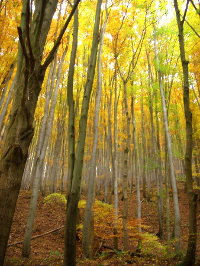 I was a part of a short-term EVS in EVC Švýcárna, on September. It lasted for 3 weeks, I had a really great time, volunteering together with 7 more volunteers from other countries. I didn't expect, that there is a possibility of staying there for a more time. But but, Valdimira Regenerova, one of the main persons of Modrý Kameň, suggested me to stay here and volunteer for 5 months, until March. I thought for a while and I said YES. This is the story, in a short version, how I got here. :)
Talking about my volunteering here, I have different tasks to do in EVC Švýcárna. Firstly, some housing tasks – cleaning, making order, helping in the kitchen, helping to prepare rooms for guests. Also, some tasks in the office – I was making a calendar for next year of Modrý Kameň, doing some order of documents in the office. And the third task – collecting an actual information about EVS – possibilities of doing EVS abroad for Czech youth and opportunities for those foreigners, who would like to do their EVS in EVC Švýcárna.
As I mentioned, I am only one month here, so everything just started. Wait for my new experiences and moments! :)
If you need/want/would like some more Info, you want to ask me something or just chat, write me emutisss [zavináč] yahoo [dot] com. It will be pleasure to help you!
All the best,
Ema